Scientists must evaluate reality objectively and prepare for the future, So I started studying sweet potatoes.
Hits : 360
Registration Date : 2021-04-30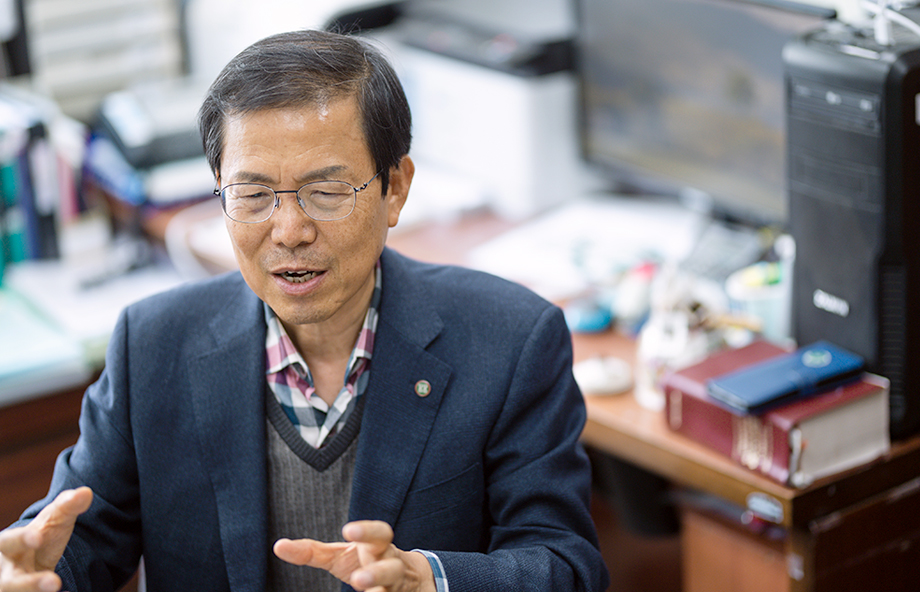 Reflections on Teaching
Scientists must evaluate reality objectively and prepare for the future, So I started studying sweet potatoes.
Professor Kwak Sang-soo (UST- KRIBB (Korea Research Institute of Bioscience and Biotechnology) School)
Everyone will remember last summer when it rained all month long. It was a time to realize the crisis of climate change that we are facing. What about this spring? The cherry blossoms were beautiful, but I am worried about the blooming season which is becoming faster and faster. The world is already suffering from disasters caused by climate change, so we need to prepare for the climate pandemic. Drought, desertification, heat waves, heavy rain, sea level rise... These extreme disasters are causing another disaster. It is the 'food crisis'. Various disasters accelerate soil loss and desertification, disrupting food supply. Professor Kwak Sang-soo of UST-KRIBB has been developing proprietary technology for plant improvement to predict and overcome the food crisis caused by environmental problems for a long time. For 27 years, we have been focusing on one area of sweet potato research, and in recent years, he successfully developed 'golden sweet potatoes using new orange protein,' which is rich in antioxidants and is resistant to environmental stress.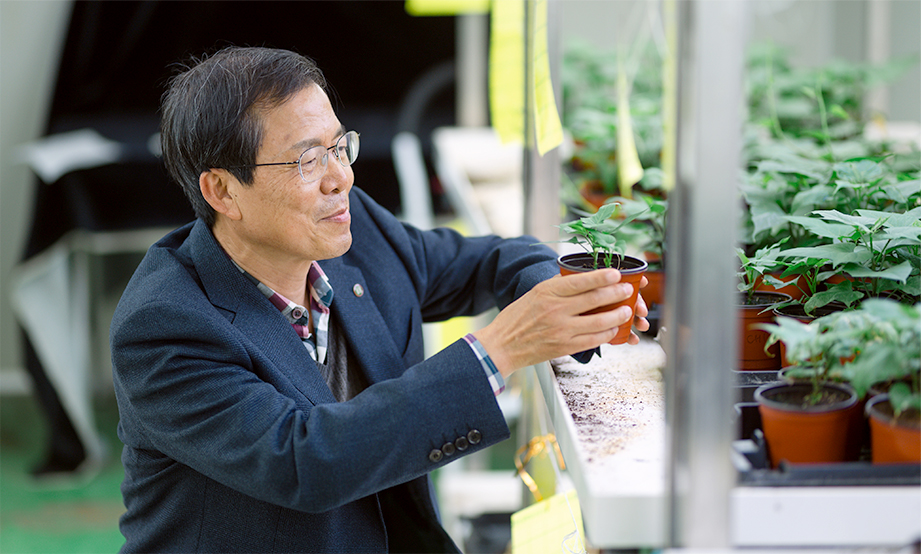 Worries and big dreams of Kwak Sang-soo when he was a boy
When he was young, his dream was to become a rural Saemaul leader. Looking at the reality of poor farming villages, he thought about 'how to solve the food problem and how to make the farming live better', and set a goal to return to my hometown after learning agriculture and botany at university. In those days, most of the students used to study for exams to become a high-ranking government official even if they entered the Department of Agriculture. But professor Kwak, who was a good student, chose to study in order to fulfill his original dream of solving the food problem and to make rural communities live well at the recommendation of the professors of his department,

After completing his master's degree, he received his doctorate at the Plant Hormone Laboratory at Tokyo University, Japan for his research on 'Gibberellin (GA), a hormone that increases the height of plants. He worked as a special researcher at RIKEN, a world-renowned research center. In 1990, he was appointed as a researcher at the Korea Research Institute of Bioscience and Biotechnology and conducted research on mass production of anticancer substances produced by plants in cell culture for 5 years. During the period when he achieved good outcome one after another, Professor Kwak suddenly chose "Sweet Potato Research."
"Twenty-six years ago, I thought that the environment and food would be a problem in the 21st century. Based on my research philosophy that government-sponsored research institute should establish a core technology and research cooperation network required by companies 20 to 30 years later, I chose research on sweet potatoes. At the time, many people asked why they were doing sweet potato research, but now I also wonder how I was able to make such a decision 26 years ago. I think that as a researcher, in order to solve the social issues facing the nation and mankind, we must accurately recognize what is the problem and conduct research with a sense of mission to solve the problem."

What is the reason why Professor Kwak has chosen sweet potato over many kinds of other crops? In addition to the fact that sweet potatoes contain high levels of antioxidants that prevent aging and disease, there is a very important point. Sweet potatoes grow well even in barren soil and with little pesticides. It is weak against the cold, but if the frost does not fall for more than 120 days, the higher the latitude, the less disease and pests, resulting in greater yield.

Professor Kwak's research team previously confirmed that orange protein (IbOr) in sweet potatoes has strong chaperone activity that prevents protein denaturation under stress conditions, and is resistant to environmental stresses such as high temperature, dryness, and high salinity. Since then, it has been found that the newly developed protein (IbOr-R96H), which changed amino acid 96 of the orange protein from arginine (R) to histidine (H), accumulates 19 times more carotenoids than the existing orange protein.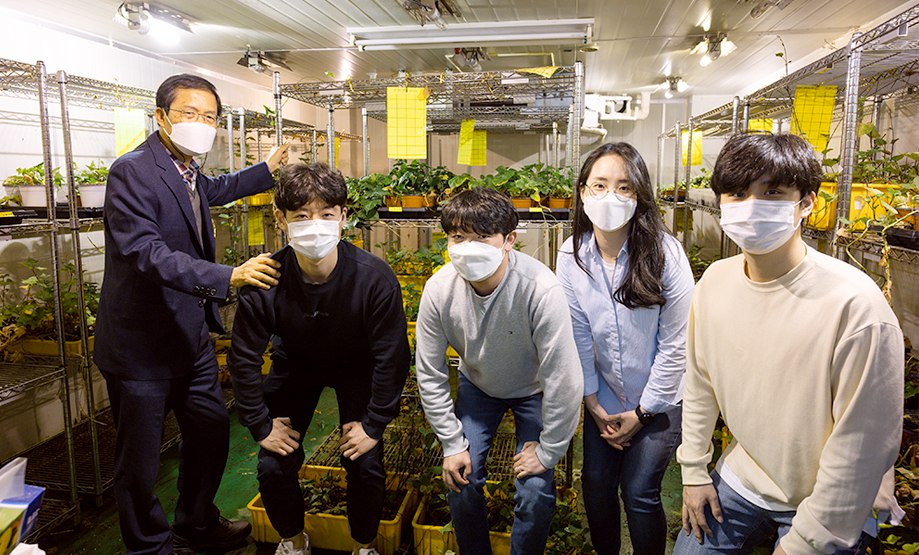 "This research presents the possibility of using it for the development of industrial crops for food security and nutrition security in the era of climate crisis and population aging".
"Be a true master of your life to lead your way"
Professor Kwak has been a UST faculty member since 2007. Nurturing talent is the mission of researchers, so he has been doing it consistently, but he realized that UST was suitable to cultivate talent tailored to global context, which can not be done at national and public universities. That is why he became a faculty member. Up until now, UST has produced 5 students with doctorate degree and 1 student with mater's degree. Among them, there are Chinese students, who are working as regular researchers at the Institute of Water and Soil Conservation of the Chinese Academy of Sciences, which have an MOU with the Korea Research Institute of Bioscience and Biotechnology for biotechnology cooperation to prevent desertification, and the Sweet Potato Research Institute of the Chinese Academy of Agricultural Sciences, and are continuously pursuing collaborative research.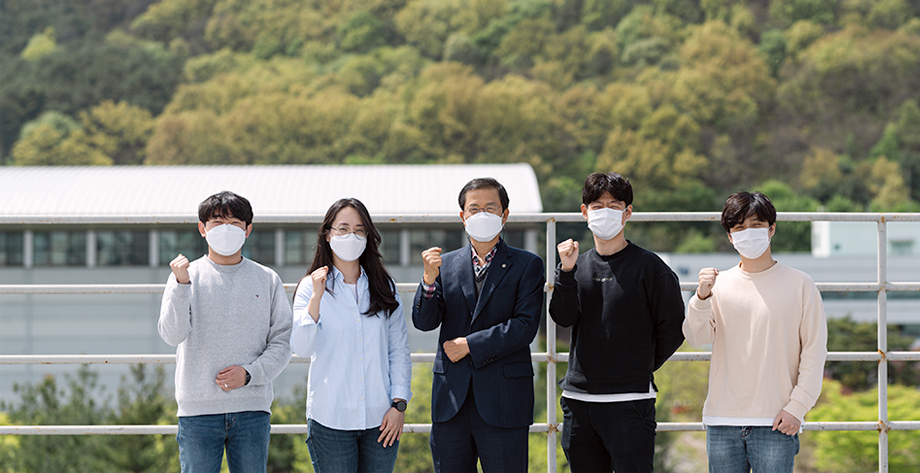 "Now, I am teaching three students in UST Master's and Doctoral Integrated Courses. I think this research achievement has a greater meaning as all UST students participated. In particular, student Kim So-eun in master's program played a major role in clarifying the scientific function of the sweet potato orange protein."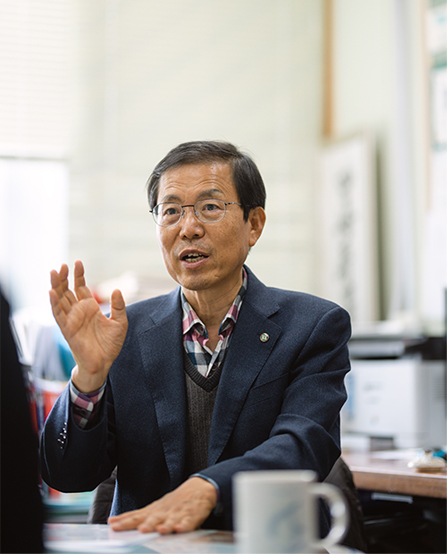 In the past, some people questioned the study of sweet potatoes. It was simply considered one of the common crops to feed the hungry stomach in developing countries. However, over the course of 27 years, Professor Kwak studied sweet potatoes intensively and became known as the "Sweet Potato Doctor." Thanks to his research on sweet potatoes, he was selected as a regular member of the The Korean Academy of Science and Technology in 2012 and was awarded the Medal of Science and Technology Medal of Innovation in 2017.

"I want to tell our UST students this story. It is to become the true master of one's life and live an independent life. Do not give up easily and be determined to finish your study area looking 10 to 30 years, not for immediate profit."

Professor Kwak's research can solve the food and nutrition problems faced by mankind in the era of climate crisis. Therefore, he is working with research institutes in China and Kazakhstan to develop sweet potatoes that can be cultivated in areas with poor climate condition, and we plan to expand the the scope to Turkey, Pakistan, and the Middle East.

"I will continue to make efforts until the retirement age so that the global sweet potato business can be realized. After retirement, I want to focus on the popularization of science (public lectures, science columns, writing books, etc.) while supporting the sweet potato business to contribute to the world."