UST President Ieehwan Kim Meets with the Indonesian Ambassador to ROK
Hits : 381
Registration Date : 2021-05-03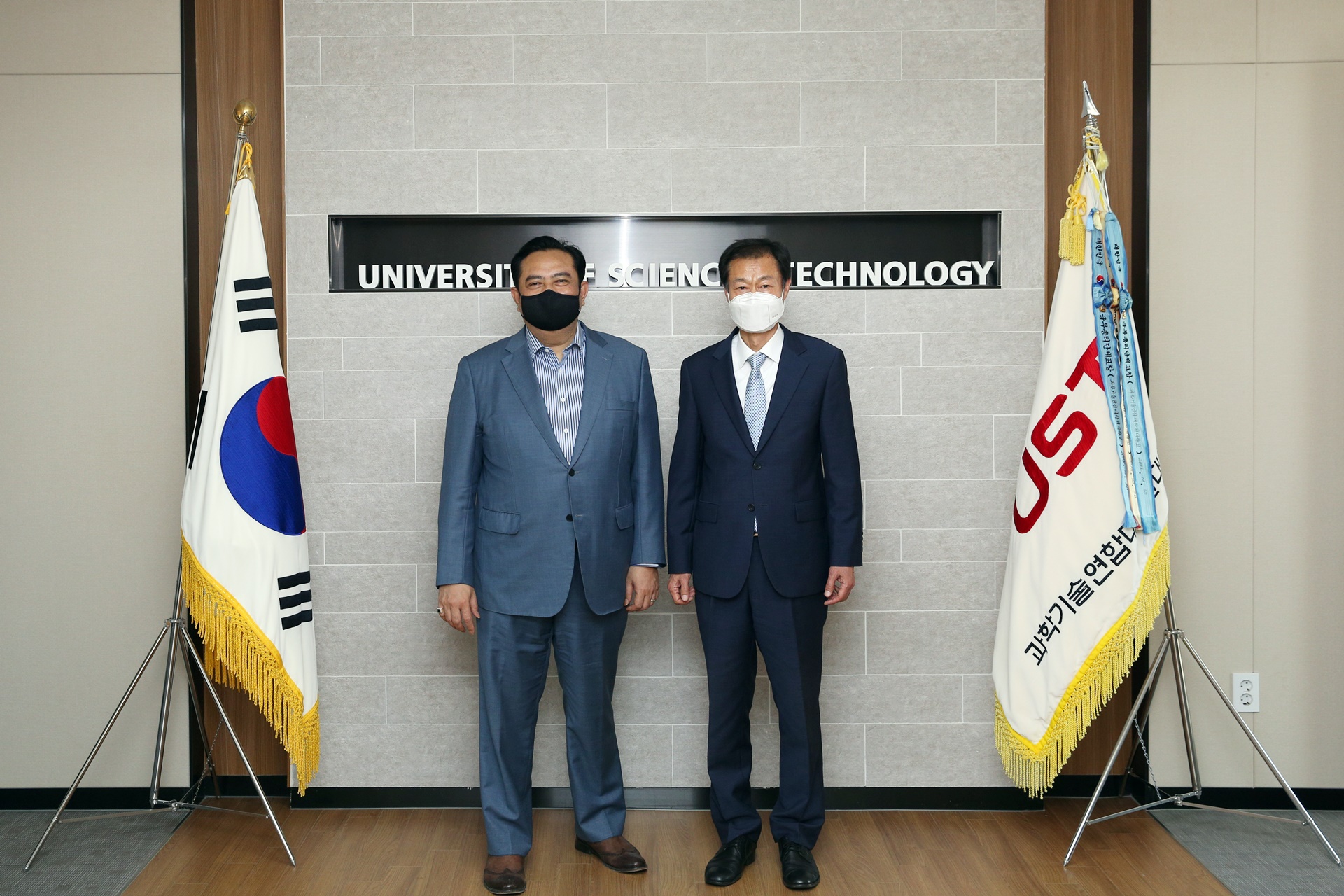 wan Kim (right) and Indonesian Ambassador to ROK H.E. Umar Hadi (left)>
UST President Ieehwan Kim Meets with the Indonesian Ambassador to ROK
- Sharing visions on establishing a research university and fostering outstanding human resources in Indonesia-
On May 3rd, 2021, President Ieehwan Kim of the University of Science and Technology (UST) held an official meeting with H.E. Umar Hadi, the Indonesian Ambassador to the Republic of Korea.
During this meeting, held at the request of the Indonesian Embassy, Ambassador Hadi expressed his hope to benchmark UST's education system, which is based on the cooperative efforts of 32 government-funded research institutes, for the establishment of a research university in Indonesia.
On that note, UST gave an overview of its field-oriented and specialized educational system, which boasts cutting edge research infrastructure and remarkable researchers at its various institutes, including the Korea Institute of Science and Technology (KIST), the Korea Institute of Energy Research (KIER), and the Korea Research Institute of Standards and Science Standard, before proceeding to discuss matters related to the establishment of a research university in Indonesia. Both parties also discussed plans for exchange opportunities that can foster outstanding and talented individuals in Indonesia, based on UST's capacities for international education, considering that 30% of its students are from overseas.
President Ieehwan Kim stated that he hopes UST's specialized educational system will serve as an excellent model in the establishment of a national research institute in Indonesia. President Kim also added that, with Indonesia at the center of South Korea's New Southern Policy, he hopes cooperation with UST will contribute to the promotion of joint scientific and technological efforts between the two countries.
Since 2015, UST has been officially recognized as an educational institute accredited by the Ministry of Education through the International Education Quality Assurance System. Also, UST has appointed "UST Overseas Honorary Ambassadors" to six countries, including Indonesia, as a means of actively attracting and managing programs for international students. Since the fall semester of 2019, UST has been operating U-LINK, which helps match international students with Korean companies. This program not only helps students from overseas post-graduation, but also promotes mutual understanding between the countries involved, thus acting as a bridge that helps support domestic companies in their efforts to branch out into overseas markets.