Newcomers Program
Newcomers' Program
UST fosters key talents with abundant on-site research experiences in science and technology fields across 32national research campuses renowned throughout Korea.
UST nurtures talents who are equipped with 4Cs in the science and technology fields to create value by developing advancements in science and technology.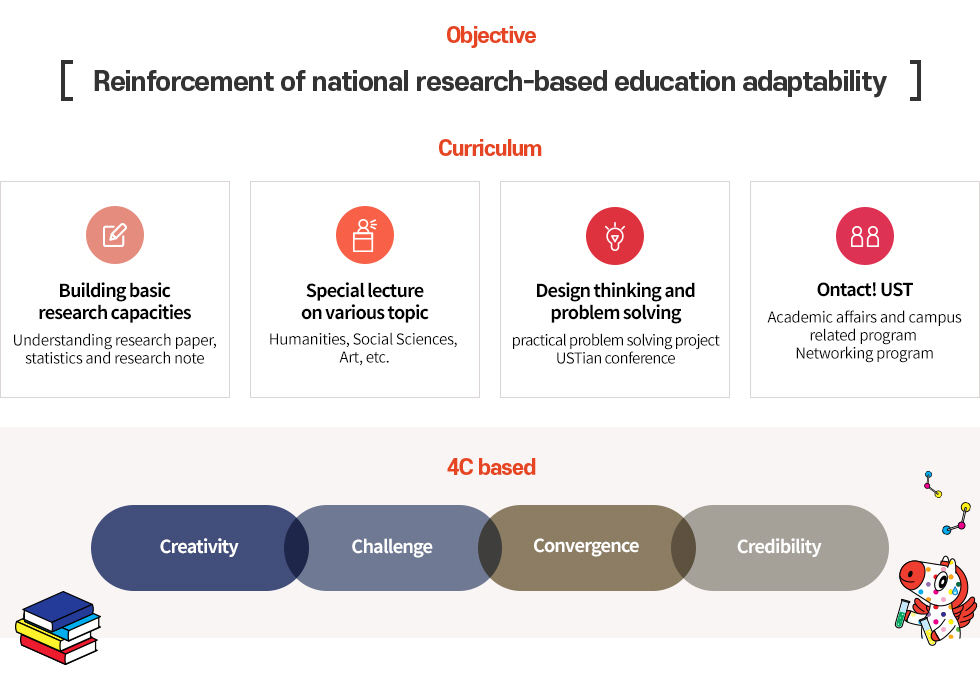 Objective : Reinforcement of national research-based education adaptability
Curriculum

Building basic research capacities : Understanding research paper, statistics and research note
Special lecture on various topic : Humanities, Social Sciences, Art, etc.
Design thinking and problem solving : practical problem solving project USTian conference
Ontact! UST : Academic affairs and campus related program Networking program

4C based

Creativity
Challenge
Convergence
Credibility
What is UST STAR TREK?
STAR TREK stands for Science and Technology Advanced Research Trust, Respect, Engagement and Knowledge UST's unique curriculum to help freshmen successfully adjust to UST's unique educational environment and establish a sense of belonging as student researchers based on UST core values(4C: Creativity, Challenge, Convergence, Credibility).
Two-week program before admission for the newcomers (graduation requirement under Article 4 of the Degree Conferment Regulations.)
What is the purpose of UST STAR TREK?
To help freshmen ① cultivate knowledge and attitudes necessary for their growth as future science talents, ② strengthen solidarity with their classmates, and ③ quickly adjust to UST's on-site research and learning environment.
What can students hope to take away from UST STAR TREK?
Understanding of academic affairs and opening of common subjects, including compulsory education
Enhanced fundamental research skills
Strengthen knowledge of various topics through special lecture
Problem solving project
Forming network among students